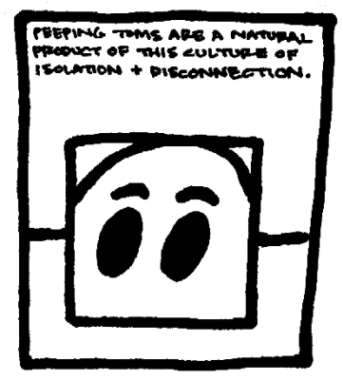 I think that
Anil Dash's assessment of the 'fired for weblogging' furor
is on target. If you have trouble distinguishing what is and isn't appropriate for inclusion then you probably shouldn't write about your employer as yourself. This becomes more important with the rise of at will employment where you have absolutely no guarantee of protection from either your or your employer's stupidity. If you're drawn in by the reality distortion field cast by some ur-geek employer then maybe the Paradise Lost-ish banishment back into fanboy land is exactly the kind of head checking your pompous ass needs. Most companies and organizations that I've worked for (there should be a blinking candy-like disclaimer button of personal experience but I'm hoping you're smarter than that) have two systems in place that mess with this work-as-utopia fume dream that seems so contagious:
a) they already have a public relations department. You're not it and pretending to speak from any position of authority under the aegis of a company name that would sooner turn you into a steaming bowl of Soilent Green than have you soil is a suicide mission. Cover you dunce cap in a fresh layer of tin foil and call me a cynical asshole all you want but you know beneath the vagaries of break room ping pong tables and free lunches there are insectile motives of profit at work.
b) the company you work for is much less cool than you estimated. Even if you're some kind of prodigal child of paper shuffling the economy is fucked and you're cheap to replace. Until we're under an administration that isn't cartoonishly fucked up this is likely to be the case. You wanted cheap gas and more god in the legal system so smarten up asshole. You only get the good cookies if you own the company.
I sound like some kind of libertarian asshole. This means that I should probably go to bed before I start preaching the advantages of abolishing income taxes or something equally idiotic.
George Romero's site is back up. There isn't a whole lot there yet but I'm looking forward to Land of the Dead updates from the horse's mouth. We watched Bruiser tonight and there is a lot of suck to make up for in the new film. The inclusion of Dennis Hopper is already a check mark in the opposite column.