If Google had any sense of humor whatsoever about the use of their name in anything but a bunch of perpetually broken beta releases, then this subtle work of ridiculous genius would be called GoogleHole or something.
Here's where I'm at, roughly: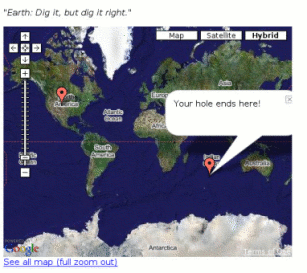 apparently I would end up in the middle of the Indian Ocean. I suppose I'll put off digging that hole for the mean time.
Money
Pages
/~
Links
Linux Related
Periodicals Sorta
Planets
Pythonic
Technology
The Dollar Dances On Our Asses
What I'm Thinking About
Work, Unfortunate Work
Zombie Related/Horror
Old School
Meta